---
You might be an artist who would like to introduce yourself and your work here or maybe you're a business with a mission to describe.
Voice of Peace
'From somewhere in the Mediterranean'
In 1973 with backing & support from John Lennon, the philanthropist and peace activist Abie Nathan raised enough money to set up the 'Peace Ship' which eventually broadcast off the Israeli coast to countries around the Eastern Mediterranean.
The style of 24 hour pop music with mainly international English speaking DJ's was one that had never been heard before in the region.
Messages of peace were broadcast to both Israelis and Palestinians & from monies raised; humanitarian aid was bought which was equally distributed to people directly affected by the continuing troubles in the region.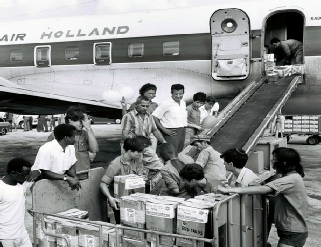 Various projects were set up, focusing on young people to help break down the prejudices forced upon them by deep rooted mistrust.
For 20 years the station broadcast from the 'Peace Ship' until 1993. After the peace accord was signed between Israel and Palestine,
Abie decided that the stations work was done and it was closed. Never one to miss an opportunity under Abie's orders and watchful eye the boat was scuttled hoping to help raise the world's awareness to the need for peace in the region.
In 2010 with the help of a band of volunteers and enthusiasts it was decided that the time was right to resurrect The Voice of Peace radio station so the message of peace could be spread again through music.
The Voice of Peace was unique as it brought the music that could never be heard in a local radio station in the Eastern Mediterranean. We are here to try and bring that success again but this time, using 21st Century technology, with the ability to listen to us around the world via the internet.
---