---
Help Us Relaunch The VOP
Written by VOP Admin on December 12, 2020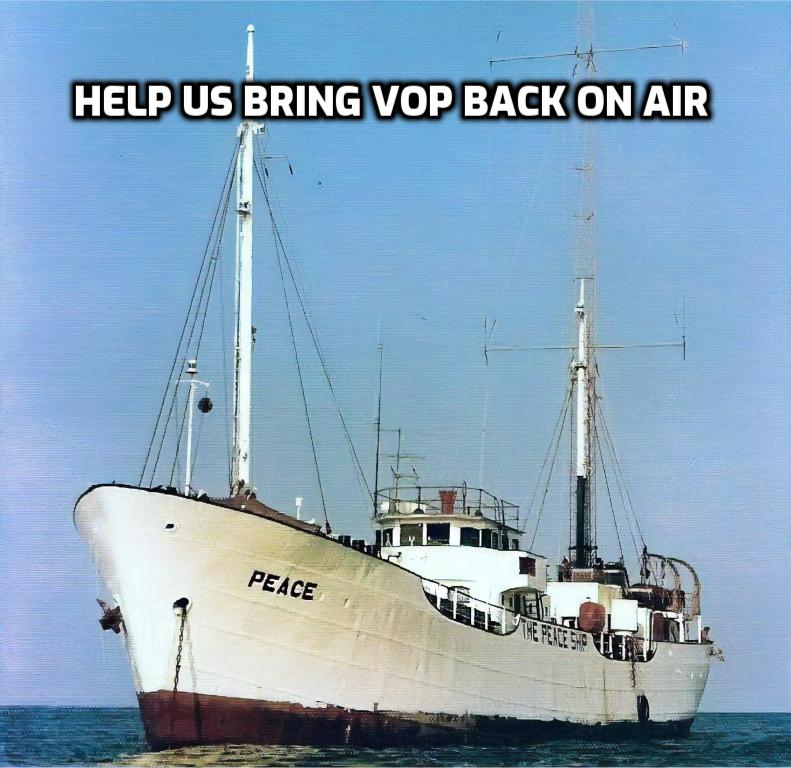 From somewhere in the Mediterranean…
On the 19th of May 1973, the airwaves around the Eastern Mediterranean were filled with music and the message of hope and peace for the region: the Voice of Peace radio station was born.
The station, founded by Abie Nathan, continued broadcasting this message from the Dutch cargo vessel MV Peace until November 1993. Despite initial funding and assistance from some of music's most famous artists including John Lennon, The Carpenters, and Johnny Mathis, 20 years of radio legend had come to an end, but only for a few years…
Well, it was actually quite a few years before the station resurfaced, launching online streaming in 2009 at www.thevoiceofpeace.co.il as well as being available on the radio apps that were being developed for mobile devices as these became the new alternative to traditional AM/FM receivers.
The station successfully broadcast online, funded privately, until July 2020. Partly due to the global pandemic, finances became tighter and tighter and it was decided to halt broadcasting. Now this is where you come in…
Become a part of The Voice of Peace v3.0!
Everything is still in place. More importantly the enthusiasm and desire to continue broadcasting this initial message of hope, peace and love is stronger than ever but we need your help. Simply put, we cannot continue our important message without your help and this means we are asking you to assist to support the station financially.
The cost of getting the station on our again is not substantial and we are not looking for huge donations, just $10 (larger donations are available!) from the many fans and listeners of The Voice of Peace will get us streaming again for years to come!
We have therefore set up this GoFundMe campaign to once again broadcast from somewhere in the Mediterranean.
If you feel that our message is important, Or even if you just love great music presented by our team of seasoned broadcasters, then please donate here, on our dedicated GoFundMe page.
We wish you all peace and love in these difficult times and we thank you.
The Voice of Peace Team
---